Our dream was to design and build our own
proprietary outdoor condensers and dry coolers
to deliver the ultimate in quality, reliability and
performance to our customers.
NG SERIES DRY COOLERS
Imagine
Outdoor heat rejection technology engineered for maximum efficiency and reliability
Dry coolers with the most advanced, ultra-quiet and energy-efficient fan designs
Coated outdoor heat exchanger coils that use innovative technology to deliver the ultimate in corrosion resistance and maximum efficiency at lower pressure drops
Modular V-bank dry coolers that provide a minimum fluid pressure drop even with large volumes of fluid
The ideal heat rejection technology for fluid-cooled applications
Direct-drive fans (EC motorized or VFD) provide improved efficiency, scalable performance and quieter operation
Here's how we did it.
SERESCO
NG Series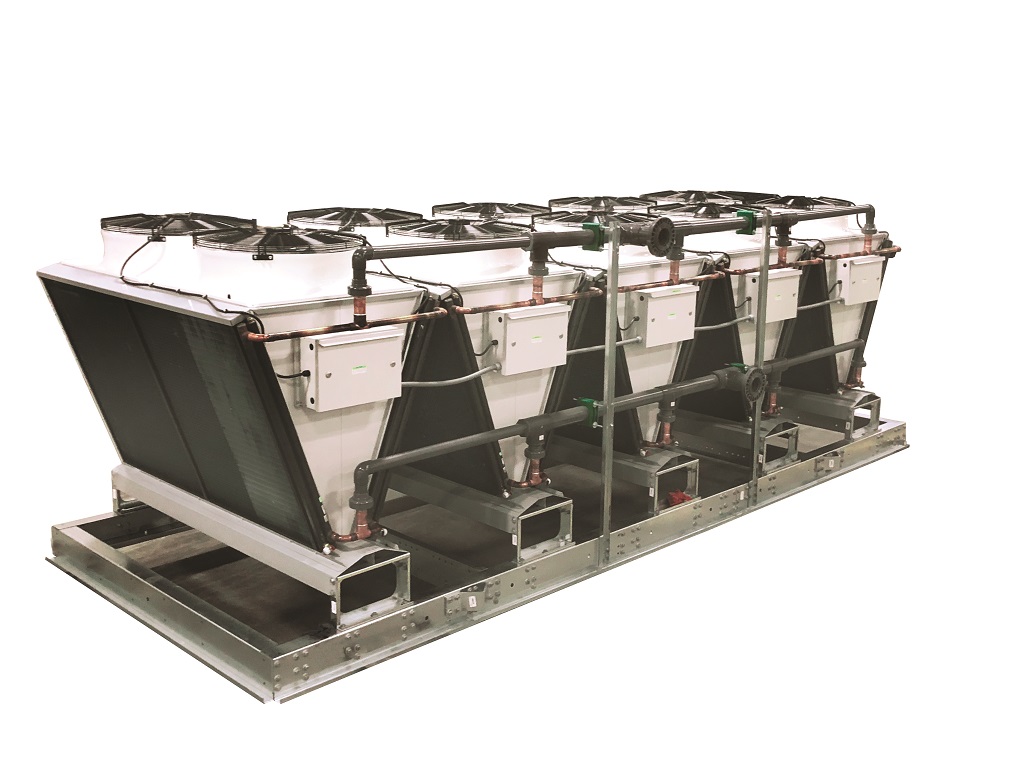 Outdoor Dry Coolers from Seresco are an ideal solution for your medium and large-scale fluid-cooled heat rejection needs. Our Dry Coolers use superior components and design to deliver a better heat rejection system available in capacities from 116 MBH to 2,300 MBH.
NG SERIES DRY COOLERS
Additional Insights
Advantages
EC motor fans controlled on 0–10vdc signal for maximum cooling performance with minimum energy consumption.

Very low maintenance motor.
Capable of higher pressure drops.
Variable fan speed based on leaving fluid temperature control

Fluid-cooled systems are inherently environmentally friendly because of their low refrigerant charge.
V-bank fin-and-tube coils increase surface area for heat rejection while keeping compact footprint.
Design minimizes air and fluid pressure drop.
Each section is equipped with hose drain valves and air vents.
Fully-coated coils (3,000 hr salt spray rating) repel dirt build up, making them very low-maintenance.
Performance Without Pump Kit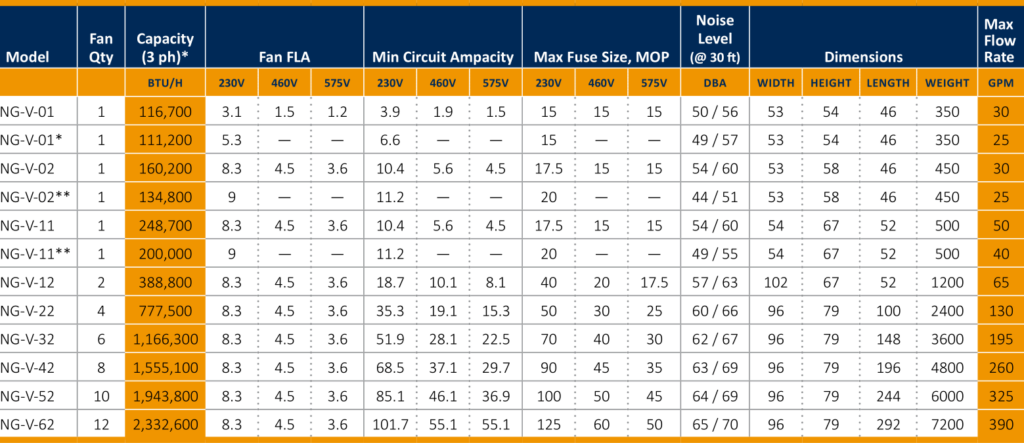 *Single phase model. **Single phase, fan motor w/ VFD. Lower sound level for 75% load. Rated conditions: 100°F air-on, 125°F entering fluid, 35% propylene glycol at unit max flow. E&OE — Subject to Change Without Notice.
Performance With Pump Kit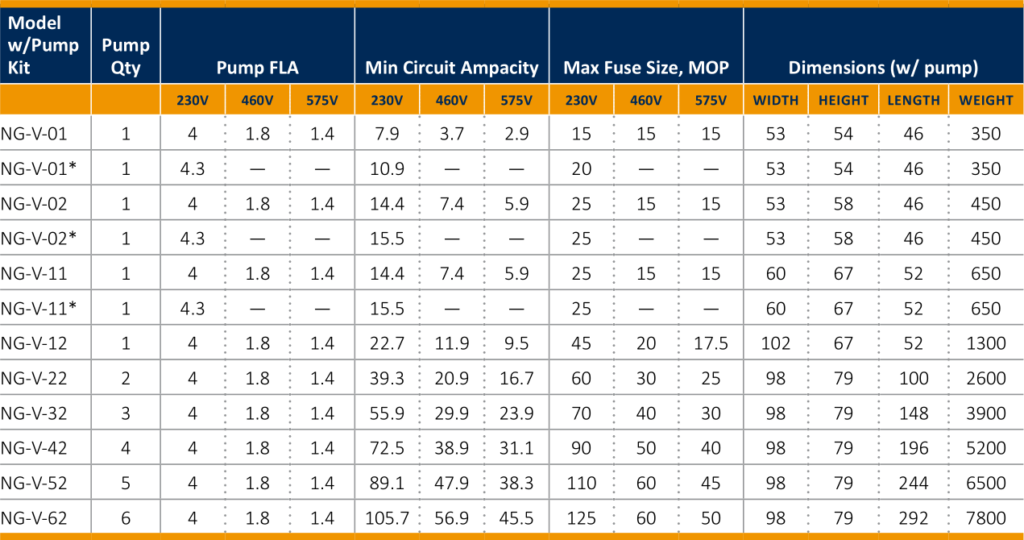 *Single phase model. Units with pump kit have same capacities, flow rate, fan FLA and noise levels
Dry Cooler Basic
Dry Cooler With Pump Kit
Packaged pump kits
Unit mounted disconnects
Available voltages are 208-240, 480, 600 VAC, three phase (also available in single phase)
Coils are fully dipped in a coating that not only gives the best possible corrosion protection, but also repels dirt build up.
Two-speed fans allow the fans to operate at lowest possible power consumption mode, ramping up to full speed only when needed.
Fan blades are the latest ultra-quiet design from the world leaders in heat exchanger fans for quiet and efficient air movement.
The "V" configuration allows larger coils and higher airflows in the smallest possible footprint.
Lightweight and compact for easy handling and flexible installation.
Twin 4-row coils with the latest tube and fin technology provide maximum fluid heat rejection and durability.
Very low internal fluid pressure drops further help reduce pump operating costs.
PVC ANSI raised flanges make fluid connections easy.