PROFESSIONAL DEVELOPMENT
Professional Development Hour Credit
Seresco is pleased to provide an informative, practical, 52 minute non-commercial Natatorium Design presentation.
This is the same material that Seresco's Ralph Kittler regularly provides to ASHRAE Chapters as an expert speaker and to engineers across the country, and subsequently provides a certificate for professional development credit.
About Ralph Kittler
Ralph Kittler, P.E., has had more than three decades of experience in indoor pool design and dehumidification and is the revisor responsible for Chapters 25 (Mechanical Dehumidifiers) and Chapter 6 (Indoor Swimming Pools) in the ASHRAE Handbooks. He's currently chair of the Council for the Model Aquatic Health Code's ad-hoc committee for Indoor Aquatic Facility Ventilation Design and Air Quality and also was an ASHRAE Distinguished lecturer for 12 years on indoor pool design.
Step 2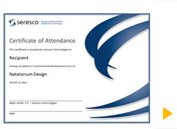 After watching this presentation, if you would like to receive a Professional Development Certificate, simply fill out your contact details and we'll be happy to email you a certificate of participation.
If you have any questions about the presentation, indoor pool design, or dehumidification, please contact sales@SerescoDehumidifiers.com.
PDH Certificate Request
PDH Certificate Request
You must watch the video before filling out this form. To receive your PDH Certificate, please complete the following form and we'll email you a copy of the certificate for your records.