WEBSENTRY
WebSentry: Built-in Performance Monitoring for Your Peace of Mind
WebSentry delivers incomparable value and is installed on every Seresco dehumidifier. WebSentry automatically connects securely with our remote servers and sends performance data – for the ultimate in remote monitoring for your equipment and your peace of mind. Monitoring helps maximize performance, boost energy savings and provide the absolute lowest overall cost of ownership of any dehumidifier in the industry.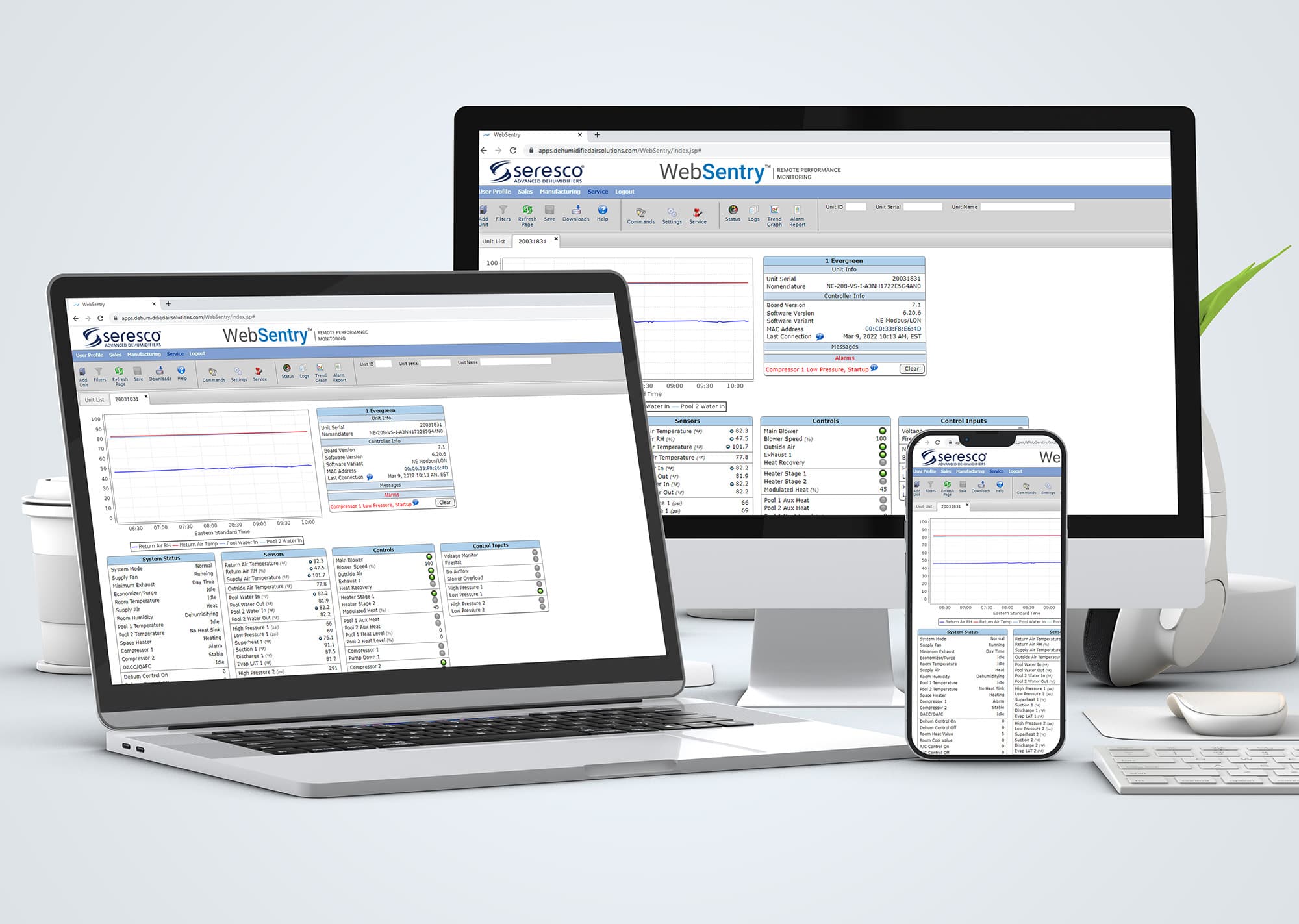 Advantages of WebSentry
Free cellular connectivity for the first two years (offered in conjunction with the unit's two-year standard parts warranty)
Peace of mind with 24/7 data logs
Robust online reporting of real-time performance data
Secure access & control via computer, tablet or smartphone
Authorized technicians adjust setpoints and parameters remotely
Real-time sensor monitoring that includes high and low refrigerant pressure transducers
Historical operating data logs on Seresco servers
Remote access and control for authorized service personnel
Extended one-year parts labor warranty
3 Top Benefits of WebSentry:
Factory Service Support
Factory service support technicians can remotely observe your dehumidifier's performance and adjust setpoints and parameters with control of over 100 critical functions.
24-7 Access to Remote Monitoring and System Control
WebSentry provides access to historical and real-time online data and system control so that authorized service technicians can remotely view and change performance parameters via their smartphone or any device connected to the internet.
Performance Notifications
You choose the key personnel who will receive instant email notifications should any system parameters not conform to performance expectations.
Complimentary Activation of Wireless Remote Connectivity
Ensuring the service and reliability of your sophisticated dehumidification equipment begins with expert installation, system start-up and commissioning. Your Seresco dehumidifier comes automatically connected to WebSentry via a cellular connection and remains connected at no charge for the first two years. (If there is no cellular connection at the unit location, a Cat5 cable can be used as an alternative to connect the unit to the internet.) We also provide you with a one-year extended parts labor warranty.
Have Questions?
Contact your local rep firm to learn more about remotely monitoring your dehumidifier with WebSentry.