Our dream was to develop truly incomparable innovation
that would become the future of natatorium dehumidification.
COMPRESSOR WALL
Imagine
The security of up to 15 compressor modules in an array provides independent redundancy. Losing one compressor does not mean your facility is out of service.
The extraordinary efficiency of each compressor to provide up to 6 stages of scalable capacity.
The savings and security of a ridiculously small refrigerant charge that's a mere 10% of traditional equipment to completely eliminate expensive refrigerant recharging.
The convenience of easy, fast, inexpensive plug and play replacement of individual compressor modules with minimal down time.
The confidence of an eco-friendly dry cooler without any of the issues of outdoor condensers.
The flexibility of multiple stages that are required to match the dehumidification and air conditioning demands of an indoor pool as it transitions through the seasons.
The energy savings of pool water heating with the security of titanium. Titanium pool water heaters are rugged and can survive some of the worst chemistry out there.
Here's how we did it.
SERESCO
Compressor Wall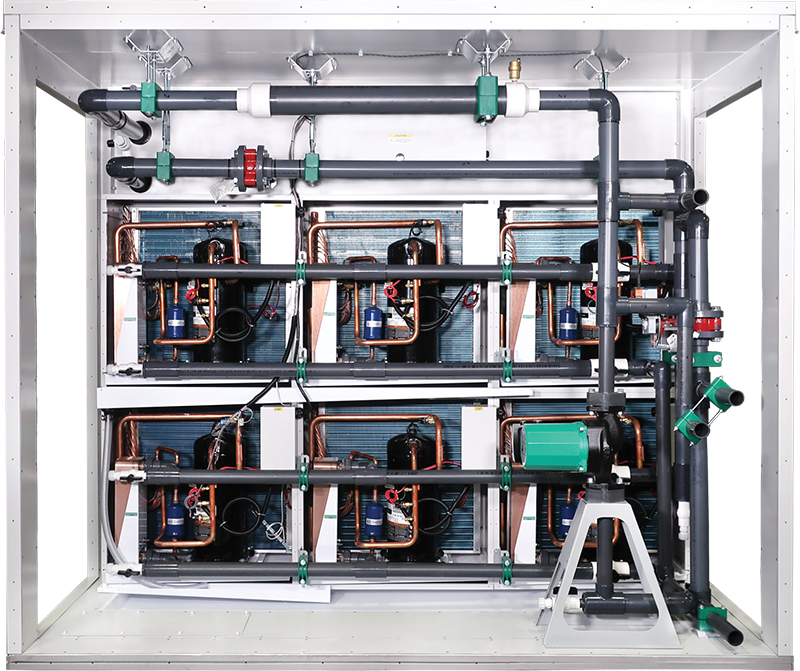 Designed from the ground up to meet the demands of the indoor pool environment, our revolutionary patent pending Compressor Wall Technology sets entirely new industry standards for performance, reliability, energy efficiency, environmental friendliness, size, weight and flexibility to deliver a truly incomparable innovation.
Revolutionary Design for Indoor Pool Dehumidification
Unlike anything else before it, our ground-breaking patent pending Compressor Wall Technology takes a modular, scalable and redundant approach to dehumidification, heating and cooling in a unitary solution that utilizes multiple small compressor modules in a powerful Compressor Wall array.
This ingenious innovation creates the ultimate solution for owners because it outperforms every other large capacity offering for every critical consideration.
Combine that with our proprietary high performance Dry Cooler heat exchange system that is also totally eco-friendly, incredibly reliable, energy efficient and extremely flexible, and you get the ultimate HVAC solution for owners.
Quite simply, there is nothing else in the industry that even comes close — in any way!
Compressor Wall Technology
Additional Insights