Our dream was to create the most flexible,
retrofit-friendly, two compressor dehumidifier,
in the smallest footprint possible.
NEW NE SERIES
Imagine
A dehumidifier designed specifically to solve all the challenges of the retrofit and replacement market
The peace of mind of a compact, two compressor system with redundant, fully independent circuits controlled by a single, sophisticated brain
Dual compressors to provide scalable performance and optimum energy efficiency under all conditions
Installation simplified by splitting the unit in two, without requiring additional field refrigeration work
Units with up to 80 lbs/hr of moisture removal and 6,800 CFM of air handling fitting through a 32-inch doorway, with split installation capability requiring nothing more than a wire harness to connect the systems
Here's how we did it.
SERESCO
NE200 Series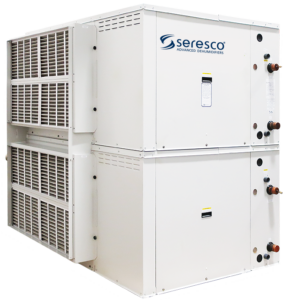 Our goal with the NE 200 Series dehumidifier line was to solve the difficult and costly challenges of retrofitting and replacing dehumidifiers.
What we ended up with was pure genius. Not only did we pack twice the dehumidification capacity into our already small footprint, but we created a fully redundant system, split installation capability and serious energy savings, with scalable load management.
Of course all of this is built with the same exceptional attention to detail, quality components and technological features of our benchmark products, including WebSentry Technology and our unrivaled warranty.
For installations requiring 45 to 170 lbs/hr hour of moisture removal and 3,000 to 16,000 CFM of air handling, our NE 200 Series provides features that beat the competition hands down – every time!
NE200 SERIES
Additional Insights
45 to 170 lbs/hr of moisture removal and 3,000 to 16,000 CFM of air handling in the absolute smallest footprint possible
Our model 214, fits through a 32-inch doorway and delivers up to 79 lbs/hr of moisture removal with 6,800 CFM of air handling
Fully modular system

2 compressors, 2 supply air fans, 2 cabinets
one package

Can be easily split at the job site for retrofit in existing buildings

just a wire harness to connect, no refrigeration piping is affected

2-sided service access for tight installations
Single phase electrical power available up to a 12-ton system
Both horizontal and vertical configurations available
Flexible supply air openings – multiple openings also possible
Direct drive backward inclined plenum fans for supply air

Higher static pressures, quieter operation, greater energy efficiency
ECM motors or variable frequency drives available

Mechanical vestibule outside the air stream protects components and makes service a breeze
Premium compressor protection
Premium corrosion resistance
CommandCenter control system

Sophisticated touch screen operator panel
Remote operator panel can be mounted up to 1000 feet away
Refrigeration pressure transducers can be monitored via WebSentry
unique to Seresco
Motorized evaporator bypass damper for proper evaporator loading and maximum efficiencies

WebSentry Internet monitoring and control as a standard feature
Can be equipped with auxiliary air heating and a variety of ventilation options including air conditioning
Pool water heating
Exhaust with heat recovery
Purge mode with economizer
Air conditioning – air cooled or water cooled, split or packaged
Auxiliary air heating
Motorized outdoor air on/off damper tied to built-in 7-day time-clock
Outdoor air ventilation built-in, complete with filter and manually adjustable damper
WebSentry Internet monitoring and control

Factory start-up and support via the Internet
Seresco Sentinel performance monitoring 24-7
Preventative maintenance e-mail alerts
Trouble warnings via e-mail
Browser-based access and control
Smart phone access and control

Unrivaled 1-year labor warranty with WebSentry connection
2-year warranty on parts
CommandCenter Control System with optional touch screen interface

The most sophisticated and powerful controller in the industry
Integrated BACnet, LON and Modbus connectivity

Service Vestibule Outside Air Stream – On All Units

Critical components outside of chlorinated air stream
Maximum AC efficiency, no heat gain from warm components
Easy to service even while unit in operation

Direct drive fans, backward inclined airfoil plenum

Quiet, powerful, efficient, reliable, energy efficient
Higher static pressures
Quieter operation & greater energy efficiency
Allows for factory installed auxiliary air heating
Offers maximum flexibility for supply air duct options
No belts to adjust, wear out or replace

Fully dipped coils for 100% corrosion protection – not just the fins!
Extraordinary compressor protection

Refrigeration pressure transducers on suction and discharge – unique to Seresco
24/7 monitoring of critical suction and discharge pressures
pump down, crankcase heater, voltage monitor
suction accumulator, oil separator, oil monitoring

Sight glasses on receivers for easy field charging of split systems
Multiple compressor systems for staged control
Flexible supply and return air openings – multiple openings also possible
Mechanical vestibule outside the air stream makes service a breeze
Mirror configurations available for all models to suit duct work requirements
Best cabinets in the industry
Motorized evaporator bypass damper for proper evaporator loading and maximum efficiencies
2-Inch pleated filters standard