Our dream was to take our most technologically
advanced, highest quality and most reliable
dehumidifier to the next level.
NEW NE SERIES
Imagine
A "Compact" dehumidifier that delivers, with one of the smallest footprints in the industry.

Fit up to 7 tons of capacity through a standard 32-inch doorway for retrofit applications. (56 ¼ in. wide, 36 ¼ in. long and 31 ⅓ tall.)
Units in the 8–16 ton range offer a similar footprint to a traditional vertical dehumidifier while only being half as tall! (74 in. wide, 52 in. long and 40 in. tall.)

Double decker versions available to expand capacity without sacrificing mechanical room floorspace.
Competitive base price.
Same standard features, with amazing new advantages and exclusive options.
Here's how we did it.
SERESCO
NE Compact Series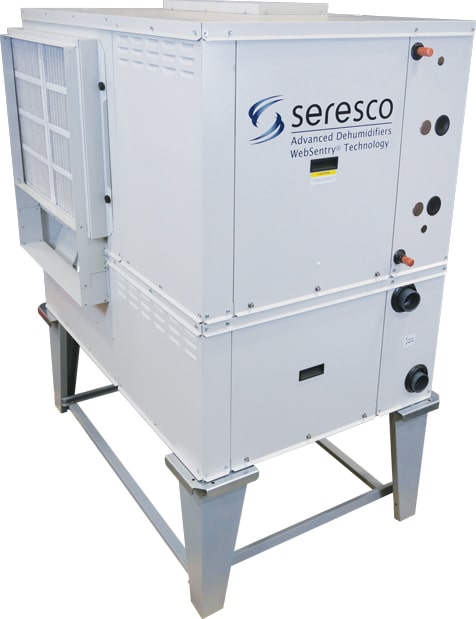 The NE Compact Series is our most advanced dehumidifier yet for small and medium-sized indoor pools requiring 2–16 tons of capacity. On top of the essential standard features you want with precision dehumidification equipment, the NE Compact is also packed with new and exclusive features and options that exceed your every expectation.
Exclusive for the NE Compact
We didn't just want to design a dehumidifier that is 40% the volume of standard units with a more competitive price; we wanted to go further. That's why the NE Compact — and only the NE Compact — offers these additional options.
Ultra corrosion-resistant titanium, full-sized, full-flow, modulating pool water heater.

Redirects up to 100% of the heat generated by the dehumidification process to where it matters: lowering your energy bills.
Pipes directly in the main pool circulating loop, providing a simple pool water heating solution that saves money.

Unit-mounted EC motorized exhaust fan provides up to ~2,200 CFM exhaust airflow to keep pool space at negative pressure.

Complete with motorized exhaust damper to prevent backdraft.
Can also be used as a supply air booster fan — up to ~2,000 CFM @ 1 in. w.c. ESP.

Compact direct-mounted gas furnace (grade 409 stainless) available for space heating with 4–7 ton units — another industry first.
NE COMPACT SERIES
Optional R3 Expansion Module
The R3 Module was purpose built for Seresco's NE Compact Series that houses a titanium full flow pool water heat exchanger and exhaust fan for efficiency and cost effectiveness.
This supplementary expansion module is available for units ranging from 2 to 16 tons, providing powerful and exclusive features for small to medium-sized indoor pools.
DESIGNED FOR EFFICIENCY
Mounts underneath NE Series main unit, adding approximately 22 inches in height.
Exhaust fan option provides up to 2,200 CFM (depending on the model) at 1" external static pressure with an EC motorized blower to ensure the room is under negative pressure, complete with motorized exhaust damper to prevent backdraft. (No need for a separate exhaust fan).
SERIOUS ENERGY SAVINGS
Heat is generated by the dehumidification process — the R3 can be equipped with a pool water heater to redirect this heat to where it matters: reducing your energy bills.
Ultra corrosion-resistant titanium and PVC full flow pool water heater pipes directly in the main pool circulating loop, providing a simple pool water heating solution that saves money.
Diverts the full flow water through the R3 Module, modulating up to 100%, using the refrigeration circuit as a free heat source
Modulating reheat coil and pool water heating provides the ultimate in stable room conditions – a new industry benchmark!
Higher energy efficiency from a new coil design that increases moisture removal efficiency while fan performance is maximized by reducing air pressure drop
New ultra-compact gas furnace option for auxiliary air heating with 4–7 ton units features loop-back air flow (packaged or can ship separately). Hot water and electric heat also available for all units.
CommandCenter control system

Sophisticated touch screen operator panel
Remote operator panel can be mounted 1000 ft. away
Refrigeration pressure transducers can be monitored via WebSentry – unique to Seresco

Mechanical vestibule outside the airstream protects all refrigeration controls from corrosion and makes service a breeze
Industry leading Electrofin coated coils for total corrosion protection – not just the fins!
Direct drive backward inclined plenum fans with EC motors for supply air

Adjust the airflow right from the operator panel
Higher static pressures, quieter operation, greater energy efficiency

NE models 2 through 7 fit through a 32-inch doorway— making them ideal for retrofit
Heat rejection via an outdoor condenser or fluid loop.
WebSentry Internet monitoring and control as a standard feature
Multiple supply air connection options for maximum installation flexibility
Sight glasses on receivers for easy field charging of split systems
Compressor protection: pump down, crankcase heater, voltage monitor, suction heat exchanger
Optional pool water heating from compressor waste heat
Outdoor air connection for code-required minimum ventilation built-in, complete with filter and manually adjustable damper
Pool water heating option
Auxiliary air heating (electric, hot water, steam or gas)
Motorized outdoor air on/off damper tied to built-in 7-day time-clock
Outdoor air ventilation built-in, complete with filter and manually adjustable damper
WebSentry Internet monitoring and control

Factory-supervised start-up and support via the Internet
Seresco WebSentry performance monitoring 24/7
Trouble warnings via e-mail
Browser-based access and control
Smart phone access and control

Unrivaled 1-year labor warranty with WebSentry connection
2-year warranty on parts
CommandCenter Control System with optional touch screen interface

The most sophisticated and powerful controller in the industry
Integrated BACnet, LON and Modbus connectivity

Service Vestibule Outside Airstream – On All Units

Critical components outside of chlorinated air stream
Maximum AC efficiency, no heat gain from warm components
Easy to service even while unit in operation

Direct drive fans, backward inclined airfoil plenum

Quiet, powerful, efficient, reliable, energy efficient
Higher static pressures
Quieter operation & greater energy efficiency
Allows for factory installed auxiliary air heating
Offers maximum flexibility for supply air duct options
No belts to adjust, wear out or replace

Fully dipped coils for 100% corrosion protection – not just the fins!
Extraordinary compressor protection

Refrigeration pressure transducers on suction and discharge – unique to Seresco
24/7 monitoring of critical suction and discharge pressures
pump down, crankcase heater, voltage monitor
suction accumulator, oil separator, oil monitoring

Sight glasses on receivers for easy field charging of split systems
Flexible supply and return air openings – multiple openings also possible
Mechanical vestibule outside the airstream makes service a breeze
Mirror configurations available for all models to suit duct work requirements
Best cabinets in the industry
Outdoor packaged and split available, air-cooled or dry cooler
Roof curb or slab compatible base design
Motorized evaporator bypass damper for proper evaporator loading and maximum efficiencies
2-Inch pleated filters standard